JEHOVAH-RAPHA
"…I am the Lord who heals you." –  Exodus 15:26 (NKJV)
"For all the promises of God in Him are yes and in Him Amen, to the glory of God through us."  2 Corinthians 1:20 (NKJV)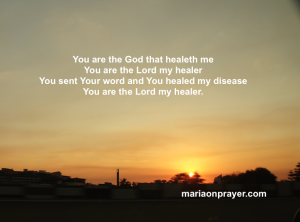 Testimony by Jenny
 "I felt a sudden excruciating pain in my upper abdomen on Wednesday morning (19th March 2014). I felt pain as I take each steps. This pain lasted for 3 days.  I wanted to see the doctor for a referral to a Specialist, but instead I decided to attend the Kingdom Invasion Conference.
On the way out of the hall, after the conference ended (21st March 2014), I suddenly realised there's no more pain in my abdomen and I could walk with ease. I believed it was during Heidi Baker's session of intercessory prayer that I received the healing."
Praise the Lord!"
==========

In one of the sessions at KI 2014 Conference, we were told, when praying, to ask for bold things. There were several things I boldly asked God for and believe that it will be fulfilled in His timing.
The next day after the conference ended,  I called a friend to enquire about her health issue, and she mentioned that according to the scan report on Friday afternoon (21st March 2014), indicated that all the cancer cells in her body have died. Praise God! We have been praying for her since we came to know of her plight.
Truly, God says that when we do as we are told in the Scripture, His Words are made "health to all our flesh." (refer to Proverbs 4:20-22).
God is not the author of sicknesses, pain, sins.
 For in Isaiah 53:4-5 (Amplified version of Bible)
v4 – Surely He has borne our griefs (sicknesses, weaknesses, and distresses) and carried our sorrows and pains [of punishment], yet we [ignorantly] considered Him stricken, smitten, and afflicted by God [as if with leprosy].
v5 –  But He was wounded for our transgressions, He was bruised for our guilt and iniquities; the chastisement [needful to obtain] peace and well-being for us was upon Him, and with the stripes [that wounded] Him we are healed and made whole.
In other words because Adam, by his fall, brought sin into our souls and diseases into our bodies.  The Lord Jesus our Saviour, went to the cross, paid the price ("without the shedding of blood there is no remission of sins") and delivered us from sins, sicknesses.
It is by faith in God the impossible takes place.
Praise the Lord! The Lord Jesus still heals today!