How would you start your day in the morning?
Do you rush through the day?
Early in the morning, I would hear the birds chirping happily or my alarm ringing to wake me up.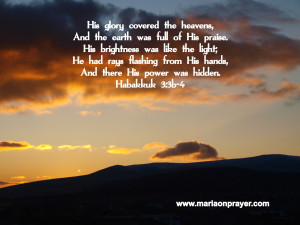 The sounds of the vehicles passing by can be heard from where we are putting up.  The sun would gradually rise on the east side.  What a lovely day it would be.  How often we take God for granted and not give Him the due praises He deserves.  His lovingkindness is fresh every morning.  May this prayer be yours today. Soaking in His loving presence and delighting in His Word and promises.  Let the songs minister to your hearts.  Let His love, joy and peace overwhelms us.  We may not know what the rest of the day be like but we can be sure God is always with us.   God blessings be with you.
PRAYER:
Dear Heavenly Father,
Words cannot express the greatness of Your love,
Daily immerse us in Your love,
help us hear Your heartbeat,
and know what's on Your heart,
Take us deeper each and every day.
Immerse us in Your presence, Lord.
'Drown' me in Your love,
Like a rushing river sweep us away to deeper places.
Letting go and You be in control.
Where the river of God flows, there is life.
The sprouting of trees yielding fruit in its season,
let our hearts desire to seek You, Lord.
as we soak up the waters that flow from Your heart
new life springs forth.
Hide us in Your secret place, surround us with Your love.