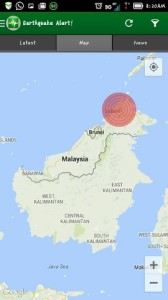 On 5 June 2015, an earthquake struck Ranau, Sabah, Malaysia with a magnitude of 6.0 at 7.15am. Tremors were felt in the vicinity.  Reportedly there were about 187 climbers, 18 of which were confirmed killed in this unforeseen catastrophe.
One of the peaks on Mount Kinabalu (Donkey's Ears) were broken off.  Many buildings and infrastructure were damaged and even the water drainage system in Ranau and Kundasang areas were affected causing water disruption to several places.
One of the mountain guides, named Robbi Sapinggi was killed during the rescue.
A group of teachers and students from the Tanjong Katong Primary School, Singapore, were on an expedition to Mt Kinabalu was involved in this disaster.
We grieved over the loss of lives and mourns with the families, for the lost of their loved ones.
PRAYER:
Dear Lord,
We pray for the families who have lost their loved ones – may Your peace be upon them.  Comfort them in this time of sorrow and sadness.
Your healing touch be upon those who are traumatised by the incident, especially the children.  For those who are injured, may they recover from their wounds and troubled minds.
We pray for the Rescuers  – Your hand of protection be upon them against landslides and aftershocks.  May the weather conditions be favourable so that the search and rescue team can make their way safely in search of victims that may be trapped under the boulders, rubbles.
As many people in Ranau and its vicinity are affected by the damaged done, Lord, we pray for Your grace and mercy be upon them.  May clean water be accessible to the people as it has affected their livelihood.
We pray that lives and homes to be rebuilt soon.  Lord, send people to help them in this hour of need.  As many of the children from the Tanjong Katong Primary School are still shaken over the incident – Lord be especially near to them as You know what they are going through.
Just as a Shepherd holds the injured lamb in His arms, likewise dear Lord, hold these precious children in Your arms.  May they find security and protection in Your loving care.
In Jesus name,
we pray
Amen