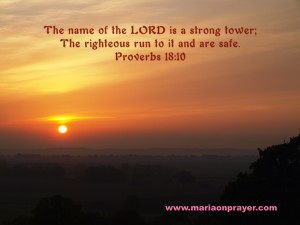 Do you know the names of God that describe His characteristics, character and communicate His capabilities?
Here's a few, to remember on one of God's names in times of adversity and distress to reflect His faithfulness, bringing comfort when we need it.  As in Proverbs 18:10 – His name is like a strong tower and there is safety for the righteous.
Elohim – "God" – His power and might – Genesis 1:1; Psalm 19:1
El Shaddai – The Almighty God – Genesis 17:1; Psalm 91:3
El-Olan – The everlasting God – Isaiah 40:28-31.
El-Roi – The God who sees – Genesis 16:13
Adonai – "Lord" – The Lordship of God – Malachi 1:6
Jehovah Jireh – The God who provides – Genesis 22:13-14
Jehovah Rapha – The Lord our Healer – Exodus 15:26, Isaiah 53:5
Jehovah Shalom – The Lord is peace – Judges 6:24
Jehovah Nissi – The Lord our Banner – Exodus 17:15
Jehovah Rohi – The Lord my Shepherd – Psalm 23:1
Jehovah Sabbaoth – The Lord of Hosts – Isaiah 6:1-3
Prayer (a guide only):
Dear Lord,
Thank you for Your names that reveal Your character.  Help us, each day to meditate on Your goodness and mercy.  In good and bad times, You are in control of all things.  In times of uncertainty I rest in Your promises for they are faithful and true.
Thank you Lord, that nothing is hidden from You.  You are my Rock and Salvation.
Into Your hands I commit myself.
In Jesus name I pray,
Amen.
http://youtu.be/A9jf0RNfUFc
Song: The Name of the Lord is a Strong Tower