Adopted into the Family of God
Romans 8:15 – For you have not received a spirit of slavery leading to fear again, but you have received a spirit of adoption as sons by which we cry out, "Abba! Father!"

verse 16 – The Spirit Himself bears witness with our spirit that we are children of God.
(We are tripartite – body, soul and spirit)

verse 17a – and if children, heirs also, heirs of God and fellow heirs with Christ.

Col 2:10 – and in Him [Christ] you have been made complete, and He is the head over all rule and authority.

Phil 4:19 – And my God shall supply all your needs according to His riches in glory in Christ Jesus.

Romans 8:2 – For the law of the Spirit of Life in Christ Jesus has set you free from the law of sin and of death.
Reconciled to God
Christ's death bridged the separation between man and God –
1 Timothy 2:5 – For there is one God and one mediator also between God and man, the man Christ Jesus.
Enablement through Christ
Philippians 4:13 – I can do all things through Him [Christ] who strengthens me.
Inherited Blessings
Blessed be the God and Father of our Lord Jesus Christ, who has blessed us with every spiritual blessing in the heavenly places in Christ. – Ephesians 1:3
Blessings of Abraham by faith –

Galatians 3:16-17 – Christ redeemed us from the curse of the Law, having become a curse for us – for it is written, "cursed is everyone who hangs on a tree" – in order that in Christ Jesus the blessing of Abraham might come to the Gentiles, so that we might receive the promise of the Spirit through faith.
Privileges

1 Peter 2:9-10 – But you are a chosen race, a royal priesthood, a holy nation, a people for God's own possession, that you may proclaim the excellencies of Him who has called you out of darkness into His marvelous light;
for you once were not a people, but now you are the people of God; you had not received mercy, but now you have obtained mercy.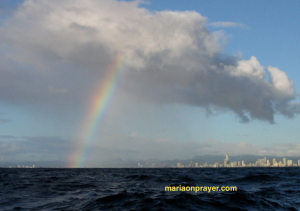 Prayer:
Thank you Lord Jesus for reconciling us to God, for the blessings and privileges we received when you died for us at the cross. Praise, honour and glory to Your holy name.
Amen.