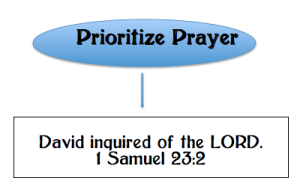 In everyday situations, do we seek God in prayer before embarking in a project, plan or decisions?
Do we seek God

only

when facing insurmountable challenges?
Do we make plans and expect God to endorsed it with His blessings?
Needless to say, we need Him all the time.
We can but learn from history that when King David was about to engage in battle with his enemies – he would inquired of the Lord and wait for His counsel.  Upon God's assurance did he moved into battle knowing that victory awaits them.
How often because of our lack of foresight or counsel from the Lord, we suffered consequences of wrong decisions made.  It would have saved us time and heartache if we had seek God first.  As God is the Alpha and Omega, the Beginning and the End, He knows all things.  In humility we should seek His will in every situation.  We can rest assured that when we leave everything in His hands and do things according to His ways, we would acquire success and blessings.  I hold fast to the words in
Jeremiah 29:11 – For I know the thoughts that I think toward you, says the LORD, thoughts of peace and not of evil, to give you a future and a hope. (NKJV)
Should we have had failures in the past – Don't harp on about the past issues, but moved forward with God's help and guidance.  God has promised that He will never leave us or forsake us.  In Him we trust.
Prayer:
(Simple guide)
Dear Heavenly Father,
Before we embark on any plans or decisions, help us not to act on our own wisdom but seek Your guidance in every situation.  Give us the courage to trust and follow You – for You know what is best for us.   Holy Spirit, help us discern truth from error and show us the way.  I rest in You – omniscient God.  In Jesus name I pray. Amen.