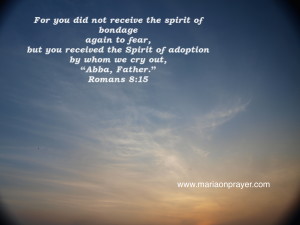 Many of us are unable to see Abba Father for who He really is, as often times our relationship with God is influenced by the relationship we have had with our earthly father.  When we have issues with our earthly father it can easily be transfer to the new relationship we have with Heavenly Father.  If there are unresolved issues relating to earthly fathers with hidden core pains it can easily spills over into many areas of  our lives – in families, marriages, careers, ministries and even our walk with God – hindering a life of intimacy and love.  When our basic emotional needs are not met during childhood, we are unable to develop healthy relationships with God or other people during adulthood.  Each child  is different and experiences different languages of love – for example, one child may crave physical touch of hugs and kisses whereas another child in quality time spend playing with them.   For a child to thrive they need an atmosphere of unconditional love and acceptance in order to be emotionally secured.   The need for praise and affirmation is helpful in preparing them for life.  If they live under constant criticisms it will adversely affect their self-esteem and worth.  Unfortunately earthly fathers are imperfect and unable to meet these needs.   These "father flaws" are ingrained in the children's hearts with its hidden lies, wound, pain, and disappointments.
Unless and until a person experiences the love and security of Abba Father in their hearts – they are unable to move beyond the earthly father issues into a life of security, love and intimacy in other relationships.
All of us have different upbringings:
The Performance-Oriented Father
The child is expected to measured up to the father's rigid expectations in high performance standards as well as perfect obedience.  Constantly harassed in striving for perfection, the child may develop fear and depression for being unable to earn the love and affirmation of their parents.  Evidently as human beings we cannot attain perfection all the time.  Faced with criticisms or unattainable demands may lead the child to feel in his/her heart that no amount of effort tried is good enough for the father.  This pain may be carried from childhood to other relationships in adulthood.
The Passive Father
He is undemonstrative of any form of love or tenderness, hardly make any demands on his children.   Practically he is uninvolved in his children's lives.  Most times these fathers are workaholics and is unable to relate to their families in a loving way.  Coming home he's emotionally drained and exhausted with nothing left for his family.  As a consequence the child become devoid of joy and passion and would feel Abba Father as being distant and impersonal.
The Absentee Father
Apparently he is never around when needed which could be due to death, divorce or abandonment (father leaving the family for another woman).  These children may experience fear or blamed themselves for their father leaving them.  There's an element of insecurity and instability growing up fatherless affecting them emotionally and mentally thus in their social life – being unable to mingle freely with others for fear of being ridiculed.  It would be difficult for them to relate to Abba Father and experience His unconditional love and concern over them.
Psalm 27:10 – When my father and my mother forsake me, then the Lord will take care of me.

John 14:18 – I will not leave you orphans; I will come to you.

Psalm  68:5-6 – A father of the fatherless, a defender of widows, Is God in His holy habitation.
The Authoritarian Father
A demanding Father who would use harsh measures to instil his 'law' being carried out at home.  The child would feel intimidated, feared and controlled.  Father's selfish attitudes demands meeting his needs.  Likewise a child could not fathom Abba Father as being loving but seen as a harsh figure to be feared and obeyed.
The Abusive Father
Children experiencing verbal, emotional, physical or sexual abuse need deep healing (through counselling and prayer ministry).  It would require the Holy Spirit's help in pouring God's love into their wounded/broken hearts.  The sexually abused child experiences a deep scar, wounding in his/her whole being, causing feelings of distrust, fear in authority figures.  Predominantly they feel much shame and unworthiness, being betrayed by the one who is supposed to be their protector.
Feelings of anger and hatred for being violated are often times suppressed and this in turn may spills over in other relationships in life.  Girls devastated over the loss of their sexual purity may lead to suicides, whilst others seek for love in the wrong places and in some cases adopt a lifestyle of promiscuity.   Feelings of shame and uncleanness may remain and it would need a drastic transformation by Abba Father in restoring what was stolen and a daily walk with Him to overcome those years of pain, lost of identity and self-worth.
Whatever our experiences may be – Abba Father wants to restore what is missing and vital in our lives – the transformation of our lives through His agape (unconditional) love and healing from our brokenness. To be set free and be healed, a person may need to forgive earthly father for misrepresentation of Abba Father's love.  Forgiveness breaks the vicious cycle of carrying the baggage of pain, resentment, anger and revenge and sets the captives (children) free.  Failing which, the child would carry these hurts throughout their lifetime and so hurt others in the long run… hurting people hurts others.  Forgiving the abuser doesn't mean that the abuser gets off scot-free, but in fact,  letting God deal with him.   It is Abba Father's desire that we are not dwelling in spiritual, oppressive darkness but coming to Him for He is light as there's no darkness in Him.  He wants to renew and restore us when we are willing to walk in the light of God's love.   1John 1:5-7(NKJV) – This is the message which we have heard from Him and declare to you, that God is light and in Him is no darkness at all.  If we say that we have fellowship with Him and walk in darkness, we lie and do not practice the truth.  But if we walk in the light as He is in the light, we have fellowship with one another, and the blood of Jesus Christ His Son cleanses us from all sin. 
John 14: 23 – Jesus answered and said to him, "If anyone loves Me, he will keep My word;  and My Father will love him, and We will come to Him and make our home with Him.
The healing journey may be long and tedious for some, but as we yield ourselves to God in walking close to Him daily in acknowledging our sins (including hidden sins of pride and self-love), reading and appropriating His Words to our lives.  Romans 13:12-14 – The night is far spent, the day is at hand.  Therefore let us cast off the works of darkness, and let us put on the armour of light.  Let us walk properly, as in the day, not in revelry and drunkenness, not in lewdness and lust, not in strife and envy.  But put on the Lord Jesus Christ, and make no provision for the flesh, to fulfil its lusts. 
God may lead you to do something you never done before… risk it, trust Him and do it.  Its like 'oozing' out the 'toxic' that have hindered you from going forward and living a victorious life.  Light reveals; darkness hides.  
PRAYER:
Abba Father, I seek Your help in releasing and forgiving my earthly father for all hurts and disappointments that I have experienced in my life.  Lord, heal and comfort the hurting child in me – where I have harboured anger, bitterness and pain I lay them at Your feet, Lord Jesus. You took my sins and sicknesses at the cross and I choose to forgive my father.  Thank you Lord and I claim 1 John 1:9 (NKJV) – If we confess our sins, He is faithful and just to forgive us our sins and to cleanse us from unrighteousness. 
Lord, I choose to receive You as my Abba Father and be Your child.  (John 1:12 NKJV – But as many as received Him, to them He gave the right to become children of God, to those who believe in His name).
In Jesus name I pray,  Amen.
Do listen to Father's love letter to you:
 https://youtu.be/3C9FVEpPqdU