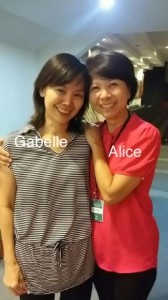 Sister Gabelle (dressed in black and white tee shirt) was suffering from right eye problems – nerves breakdown, black spots and lines all over her right eye. After Church Service sister Alice (dressed in red teeshirt) brought Gabelle to Eddy, who ministers in the Healing Rooms, PJ, Malaysia, for prayers.  God honoured their faith and by His grace, love and mercy her right eye is healed.
During prayer, brother Eddy said "when two or three are gathered in His name, the Mighty name of Jesus, He will be with them to heal."  Incidentally Gabelle had just taken a photo of a song (with handphone) during the church service and the lyrics depicts similar wordings.
She had been desperate for her eyesight to be restored and had been praying, crying out to the Lord Jesus to heal her right eye.  Just as in Mark 5:34 – "Daughter your faith has made you well…" (NKJV) Thank you Lord Jesus.
Miracles do happen today, contrary to some who considered that its the thing of the past.  As In Hebrews 11:6 – "But without faith it is impossible to please Him, for he who comes to God must believe that He is, and that He is a rewarder of those who diligently seek Him." (NKJV) Faith is prerequisite to a miracle.  Do you need a healing?  Call out to the Lord Jesus, Have faith in the awesome miracle working God we serve.