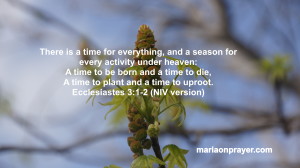 Life on earth is temporary.  Death is inevitable and unpredictable –  It is no respecter of persons, it comes to all walks of life.  Practically everyday we hear either of death tolls resulting from natural catastrophes or sudden death of person we least expected.  Death can occur at the hands of a violent person/s,  prolonged illness or even through accidents.  The sudden loss of a loved one can be devastating.  The grief –  death brings can leave a person/family mourning for a long period of time especially if we could have prevented his/her death.
In reality it's a painful separation – life would be different from now on:
God has promised that He will never leave you nor forsake you

.
Trust God as you face uncertainties, challenges ahead.
He knows what you are going through,
let Him healed your wounded heart and
fill you with His love and comfort.
'All your tears are collected in a bottle.'
He will send people to help you.
What you need He will provide (Jehovah Jireh).
The days may be lonely but God is near.
May this song comforts you:  
1. Abide with me; fast falls the eventide; 
the darkness deepens; Lord, with me abide. 
When other helpers fail and comforts flee, 
Help of the helpless, O abide with me. 
2. Swift to its close ebbs out life's little day; 
earth's joys grow dim; its glories pass away; 
change and decay in all around I see; 
O thou who changest not, abide with me. 
3. I need thy presence every passing hour. 
What but thy grace can foil the tempter's power? 
Who, like thyself, my guide and stay can be? 
Through cloud and sunshine, Lord, abide with me. 
4. I fear no foe, with thee at hand to bless; 
ills have no weight, and tears not bitterness.
Where is death's sting? Where, grave, thy victory? 
I triumph still, if thou abide with me. 
5. Hold thou thy cross before my closing eyes; 
shine through the gloom and point me to the skies. 
Heaven's morning breaks, and earth's vain shadows flee; 
in life, in death, O Lord, abide with me.
For Believers, death is the end of our physical existence on earth and the beginning of our eternal life through Christ in heaven.
"I write these things to you who believe in the name of the Son of God so that you may know that you have eternal life." 1 John 5:13 (NIV)
"He died for us so that, whether we are awake or asleep, we may live together with Him."1 Thessalonians 5:10.  (NIV)
"For God so loved the world that He gave His one and only Son, that whoever believes in Him shall not perish but have eternal life.  For God did not send His Son into the world to condemn the world, but to save the world through Him.  Whoever believes in Him is not condemned, but whoever does not believe stands condemned already because he has not believed in the name of God's one and only Son."John 3:16-18
Your ultimate destination is secured when you accept the salvation Christ offers.
Prayer for bereaved family:
Dear Heavenly Father,
Words cannot  described the pain and grief we feel over our loss.
Remind us Lord, that our loved one is in a better place even though we miss him/her.
In the days ahead, help us to be thankful for the good times we have had together. Comfort us Lord, when we are overcome with grief.
In Jesus name I pray,
Amen.